Find the Perfect Volkswagen Golf in Newton NJ
Sporty, stylish, and a lot of fun, the Volkswagen Golf is an excellent choice for drivers around Newton, NJ. Compact yet practical, this is a vehicle with broad appeal. There are four different variations that we feel you should take a look at before deciding which one is the right fit for you. Here at Volkswagen World of Newton, we have the information you need to make that call.
Volkswagen Golf TSI
The standard VW Golf comes in one trim level, known as the TSI. It is fun to drive with its turbocharged four-cylinder engine that produces 147 horsepower. This engine is designed to work well with the standard six-speed manual transmission. For those who prefer it, an eight-speed manual transmission is also an option.
As for features, the VW Golf TSI has a long list. Some highlights include heated front seats, push-button start, a sunroof, and alloy wheels. You can integrate your smartphone thanks to Android Auto and Apple CarPlay compatibility. Other tech features include a 6.5-inch touchscreen and a Wi-Fi hotspot.
Volkswagen Golf Alltrack
If you are someone who likes to go on adventures outside of Newton, NJ, consider going with an VW Golf Alltrack model. These come with features such as all-wheel-drive with an off-road mode as well as a higher ground clearance. The turbocharged engine found underneath the hood of the Alltrack produces 168 horsepower.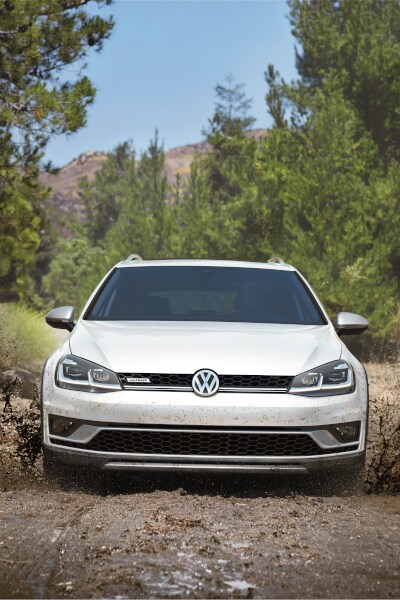 Volkswagen Golf GTI
You can also go with the VW Golf GTI. This high-performance version of the Golf has an engine that produces 228 horsepower. While a six-speed manual remains standard, a dual-clutch seven-speed manual is also an option. Feature-wise, it is very similar to the standard Golf.
Volkswagen Golf R
Finally, consider the powerful and athletic Volkswagen Golf R. This option is powered by a turbocharged engine that can produce an exhilarating 288 horsepower and 280 pound-feet of torque. It can take you from zero to 60 in just five seconds, making this an excellent choice for thrill-seekers. It also comes with an all-wheel-drive system that can switch to front-wheel-drive when it is not needed.