If you are trying to decide which of these two spacious SUVs is best for you and your family as you cruise around Newton, Hackettstown, and Sparta, our Volkswagen World of Newton team is here to help.
Below, you'll see what sort of space and features are found in the Volkswagen Atlas vs. Nissan Pathfinder. Keep reading to see which SUV has exactly what you are looking for.
---
VW Atlas vs Nissan Pathfinder: Interior Space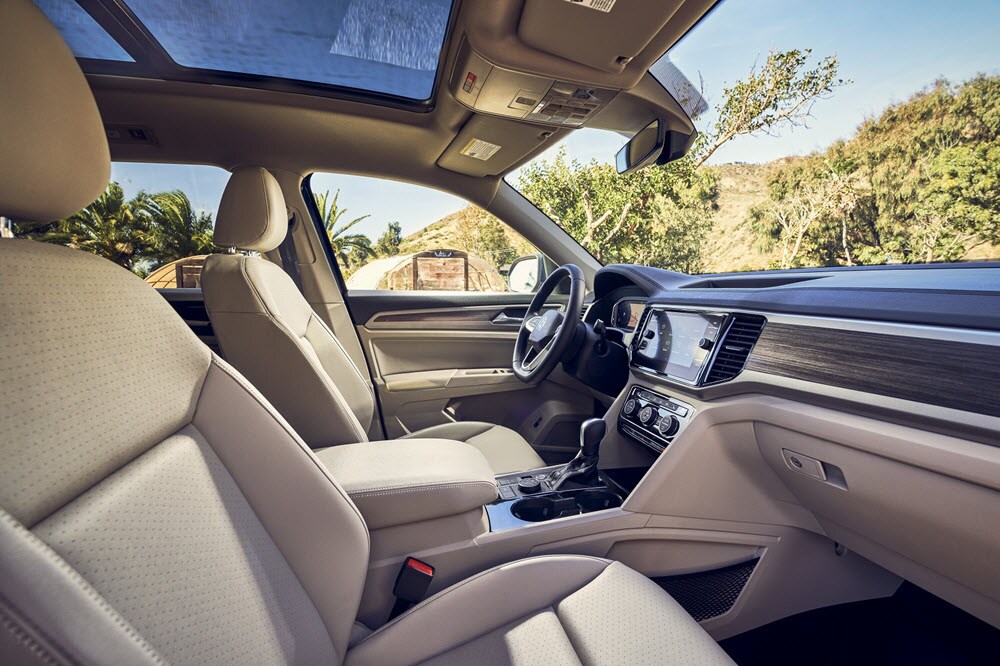 Each of these SUVs are able to fit seven passengers and have 154 cubic feet of passenger volume within their cabins. When you take a closer look at the dimensions, though, you'll see that the kids or friends in the back will have more space inside the 2021 VW Atlas.
Its second row comes with 40.4 inches of headroom, while the second row of the Nissan Pathfinder has just 39.4 inches of headroom. The third row of the Volkswagen Atlas also supplies its passengers with 38.3 inches of headroom and 33.7 inches of legroom. The third-row seats in the Pathfinder are more cramped, with just 37.8 inches of headroom and 19.8 inches of legroom.
You can also use all of that rear interior space for cargo when you don't have a vehicle full of passengers. By folding down the rear seats in the Pathfinder, you'll be able to create up to 79.5 cubic feet of cargo volume. At its maximum, though, the VW Atlas gives you even more space to pack up a range of items, thanks to its 96.8 cubic feet of cargo volume behind the first row.
---
Extra Assistance
While driving around in either SUV, you'll feel safe and secure, thanks to a variety of systems constantly working to give you extra peace of mind. On top of that, each of these models feature driver-assistive technology that give you even more confidence when driving.

They each have systems that can detect of any sudden changes ahead, then automatically apply the brakes to help you avoid a potential collision. The 2021 Volkswagen Atlas also comes standard with Blind Spot Monitor and Rear Traffic Alert, which help when looking to change lanes or back out of a parking spot.
Neither of these features are standard in the Pathfinder. Speaking of parking, the VW Atlas also has available Park Assist that will help you steer in and out of open spots. The Nissan Pathfinder doesn't offer this type of technology to make parallel parking or backing into a perpendicular space easier and safer.
---
Smartphone Connectivity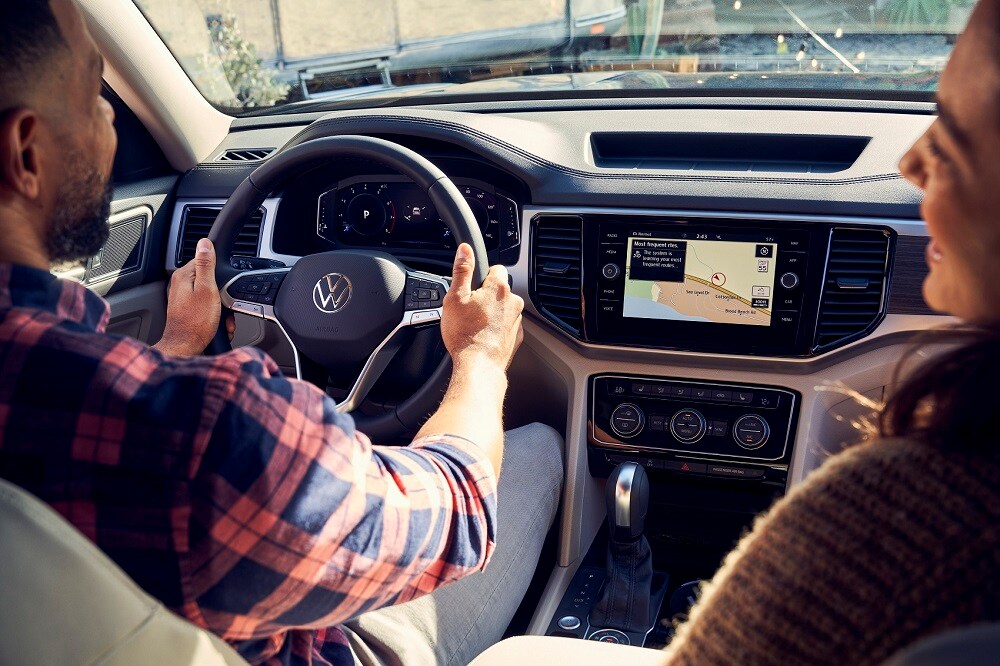 There are a lot of similarities when it comes to the features found inside the 2021 Volkswagen Atlas and Nissan Pathfinder. The main difference between the features in the VW Atlas vs. Pathfinder is in the connectivity they each offer.
Inside the Pathfinder, you can pair your device through Bluetooth®. This will let you play your music and make phone calls while driving. The VW Atlas comes with Apple CarPlay® and Android Auto™, though, which give you even more capabilities.
When connecting to one of these systems, you will get to have your text messages read to you and have access to various apps on the touchscreen display. This includes your navigation app, which you can use to get directions or just see how traffic is ahead.
---
The Choice Between the Volkswagen Atlas vs Nissan Pathfinder
Have a better idea of which SUV you want? If you are like most drivers in Newton, Hackettstown, and Sparta, and prefer the extra space, personalized convenience, and confidence the 2021 Volkswagen Atlas will provide for you, you can come get a closer look at this Volkswagen SUV here at our dealership!
Contact us now at Volkswagen World of Newton to schedule a test drive of the 2021 VW Atlas.