Discover the Volkswagen Tiguan in Newton, NJ
The Volkswagen Tiguan is a leader in its class among midsize SUVs on the streets of Newton, NJ and across the United States and even around the world. There is a wide range of reasons why the Volkswagen Tiguan is well-regarded and a popular ride today. These include the performance, safety, exterior, and interior features of the Volkswagen Tiguan.
Volkswagen Tiguan Performance
The performance features on the Volkswagen Tiguan outpace the competition and include 4MOTION all-wheel-drive. This feature optimizes stability and traction. The Tiguan also has an eight-speed automatic transmission complete with Sport mode.
Safety Features
Volkswagen is committed to safety, a fact that is exemplified in the Tiguan. The Volkswagen Tiguan safety features include front and rear crumple zones that absorb energy and form a proverbial safety cage in the event of a collision. The Volkswagen Tiguan also has an intelligent crash response system that not only deploys airbags but also turns off the fuel pumps, unlocks doors, and turns on hazard lights.
Exterior
The Volkswagen Tiguan has a bold, sleek design a practical side. The SUV has LED headlamps complete with an adaptive front lighting system that moves with a turn for sharper illumination of what lies ahead. The Tiguan also has a remote power liftgate for your convenience in Newton, NJ.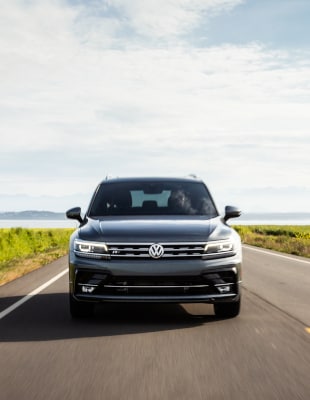 Inside the Volkswagen Tiguan
Style and comfort are the order of the day inside the Volkswagen Tiguan. The Tiguan has generous seats in the front and back, finished in premier materials. The Tiguan has an outstanding audio system that enhances motoring pleasure.
Visit Volkswagen World of Newton to Learn More
If you'd like to check out the Volkswagen Tiguan up close, visit us at Volkswagen World of Newton today. Our team of experienced, friendly professionals can answer any questions you may have about the Volkswagen Tiguan. You can get behind the wheel and take the Volkswagen Tiguan for a test drive at your convenience. We look forward to working with you soon!