If you are looking for a new SUV, chances are you've probably heard of the Volkswagen Tiguan and Kia Sportage. While both offer plenty of benefits, how do you decide which model is best for the driving you'll be doing around Newton, Hackettstown, and Sparta, NJ?
Our Volkswagen World of Newton team is ready to help you figure out the answer to that question. Below, we put the 2021 Volkswagen Tiguan vs. 2021 Kia Sportage side by side to give you a closer look at the performance, space, and features you'll get within each model.
---
A Look Under the Hood of the VW Tiguan vs Sportage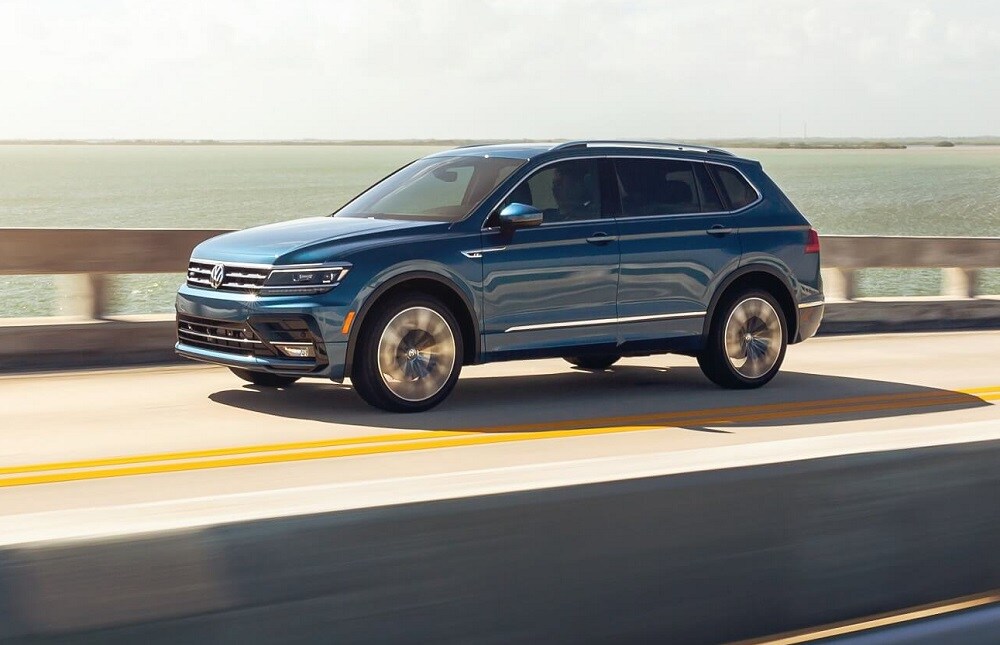 One difference of these two SUVs is the engines they each come with. Powering the Kia Sportage is a 2.4L inline 4-cylinder engine. This produces 181 horsepower and 175 lb-ft of torque. The Volkswagen Tiguan comes with a turbocharged engine that delivers a similar amount of horsepower, but a lot more torque.
This 2.0L inline 4-cylinder turbo engine in the VW Tiguan creates 184 horsepower and 221 lb-ft of torque. What will that added torque mean for you? It will provide more responsive and overall quicker performance. That extra strength is also much needed power for when you have a car full of passengers and cargo, or when you are towing along additional gear.
---
How Much Room Do These SUVs Have?
Another big difference that separates these two vehicles is the amount of room they have in the cabins. While the Sportage has two spacious rows of seating, the new Volkswagen Tiguan comes with an additional third row.

This means you can fit the kids, along with their friends, in this Volkswagen SUV whether you are taking them to school, practice, or a birthday party. Also, that additional row can fold flat and give you a great deal of room to pack up for family vacations. Folding the third row creates 33 cubic feet of cargo volume behind the second row. The 2021 Sportage has just 30.7 cubic feet of cargo volume behind its second row.
---
Volkswagen Tiguan vs Kia Sportage: Technology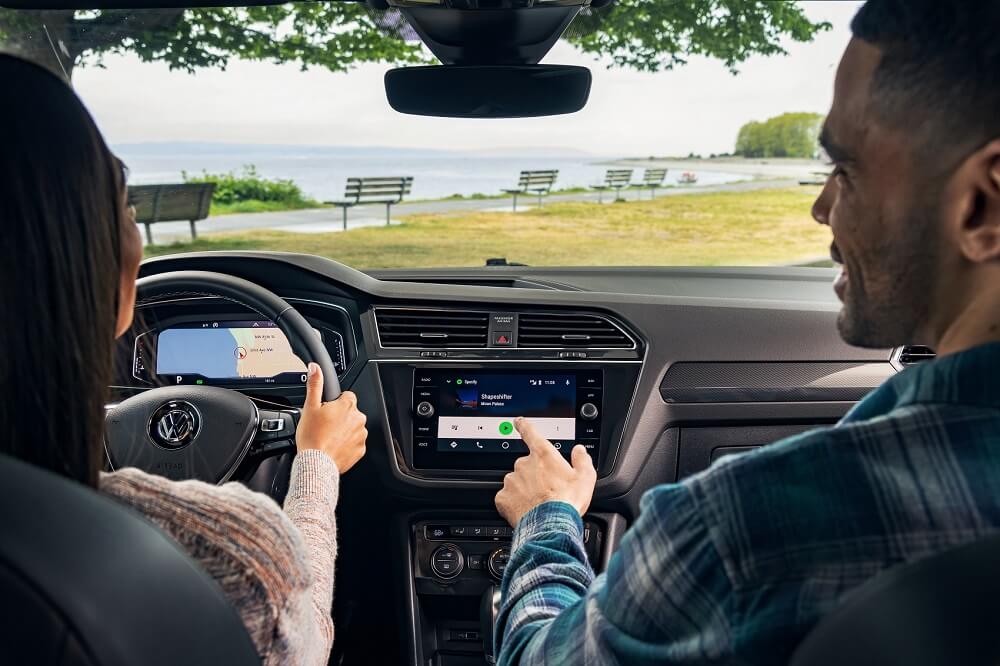 While both vehicles will let you connect to your smartphone and display its apps, make calls, send texts, and listen to your music, only the 2021 VW Tiguan will let you do this wirelessly. This way, you can connect your phone to the infotainment system from anywhere, thanks to the available wireless App-Connect.
There is also an additional display you can get in this Volkswagen SUV. That is the available Volkswagen Digital Cockpit. This 10-inch display offers a customizable view of your car's status, driving data, driver-assistive features, and more. You can even pull up a full-screen navigation view to see your route right in front of you.
The 2021 Kia Sportage only offers the available Supervision Meter Cluster, which is just a 4.2-inch display and can't show you a full-screen look at your route guidance on your dashboard.
---
Choosing Between the 2021 VW Tiguan vs 2021 Kia Sportage
The versatility of the VW Tiguan, in addition to its powerful performance and advanced technology, makes it a great choice for drivers in Newton, Hackettstown, and Sparta, New Jersey, who are looking for a new SUV.
Want to get a closer look at this Volkswagen SUV? Stop by Volkswagen World of Newton to check out the 2021 VW Tiguan and contact us now to schedule a test drive.